Cherished Volunteers
Our wonderful game has seen many changes since the introduction of professionalism back in 1996, both on and off the field.
However, one thing still remains - and it is vital at that - the role of the volunteer is still important, essential even, if any club is to survive.
Over the years tremendous voluntary input has been provided in a variety of ways, which is something never to be forgotten, and also to be cherished.

Besides the important roles taken on by officials, committee members, and coaches at various levels, people have manned gates and car parks, cut grass and hedges, picked up rubbish, painted & cleaned pay huts and changing rooms

They have organised & sold raffle tickets, and participated in a wide range of fund raising events ranging from Donkey Derby & Fetes to Tramps Balls, and Prom Days to Dinners. The list is endless.

Consider how we would get on today without the match day input of Dave Trembath and his squad of stewards.

Gate-duty people such as loyal stalwarts Ray and Anne Jeffery (who have given tremendous input since the seventies), our PA System team, scoreboard operators, 50/50 draw ticket sellers, programme sellers, and ballboys.

Graham Paul
John Gendall at Camborne 2006
Rod Lyon at Camborne 2006
Thanks are always due to whoever helps out in whatever way, something also to be enjoyed. It makes one feel part of the team, and can be a very rewarding experience a lifetimes hobby to many.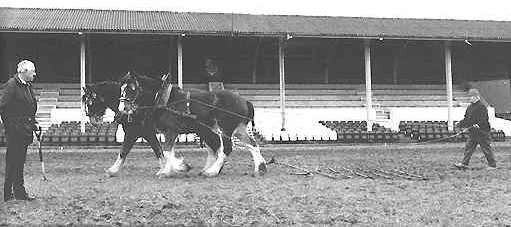 Bernard Dawe oversees Cyril Eddy & his horses harrowing the pitch - 1995
If you feel you can, or wish to support the Pirates in a voluntary way, (help is always needed) then please contact Phil Westren on 0845 270 3530.