St. Agnes U11s 12 Pirates U11 s 28
10th February, 2008
With their scheduled fixture against Helston unfortunately cancelled, the U11's were welcomed to St Agnes on a bright morning for a hastily arranged fixture. Unfortunately this meant that St Agnes were without a couple of their regular players due to half-term. So, in true sporting spirit Pirates Adam Peterson, Alfie Prosser, Billy Pengelly and Aidan White were all drafted into the St Agnes side enabling a full 12-a-side match.
Both sides started brightly and the Pirates found themselves against a set of well drilled forwards. Showing slightly more aggression than in the past, the Pirates forwards were often able to win quick ball, and slick passing enabled both wing Alistair Gwennap and Inside Centre Henry Monk to touch down, both scores being converted by Max Berryman.
Aggie Tigers refused to lie down however and determined forward play saw them drive one of their number over to pull one back. This was quickly followed by a smooth backs move that allowed them to outflank the Pirates defence to level the try count.
Pirates captain for the day, Connor Bick, rallied the side and 2 determined runs from Max Berryman were rewarded with further tries, which he also converted.
The scrum showed more stability allowing the back line to demonstrate their slick handling which often stretched the Tigers defence. However, a number of passes made when under pressure resulted in the Pirates putting pressure on themselves, rather than making the home side do so.
Many thanks should go to Stewart Whitworth and his team at St Agnes for providing a challenging fixture and it is to be hoped that the Pirates may return the hospitality soon.
Scorers - tries: Max Berryman (2), Henry Monk, Alistair Gwennap; cons: Max Berryman (4).

Pirates U11s 21 - Penryn U11s 19
3rd. February, 2008
Pirates U11s 21 - Penryn U11s 19
The visitors had the best of the first half, their two converted tries giving them a 14-0 lead at half-time.
In the second half, however, the Pirates team work and spirit saw them come back strongly to eventually take the lead with three tries scored by John Tyler (2) and Jake Carley, all of which were converted by Max Berryman.
Penryn did manage one more try of their own, but the final conversion attempt of the morning missed, and the Pirates held out for victory.
Coach Sean Hickman named the whole squad as 'man of the match', it a reward for the commitment given by all.

Pirates Under 11's v Liskeard/Looe
January 27th, 2008
Pirates 40 - Liskeard/Looe 7
The U11's welcomed a spirited and disciplined Liskeard/Looe side to the Mennaye on a fantastic sunny morning. The visitors made the Pirates work hard for every score and were very deserving of a try of their own. Once again, Pirate team play and spirit was the winner, as fluent passing and great support play saw the Pirates score 6 tries. Coach Sean Hickman named Henry Monk man of the Match for an exemplary tackling display.
The Pirates are beginning to develop fluency in their back play and 'game sense', particularly at the break down, where they work hard for each other to secure the ball. An area that does need work is ball retention in contact. Whilst their opponents won ball from scrums and lineouts, the U11's all too often spilled the ball in contact, or failed to protect it adequately, once on the ground.
Despite this, the boys still managed to come away from many a breakdown with ball and slick hands resulted in the first try out left, full back Michael Durbin joining the end of the line to touch down in the corner. This was quickly followed by a short darting run from scrum half Jake Carley to extend the Pirates lead. Some slick work from Liskeard and strong running down the right saw them pull one back just before the break.
The Pirates have a wealth of individual talent, a third try coming from a storming charge from prop James Stacey, even though the backs were screaming for the ball to come left as there was no defensive cover whatsoever outside of the visitors fly-half.
After a strong run from Reuben Mzera, the Pirates human 'pin-ball' John Tyler was on hand to jink his way to within a couple of metres. Reuben by this time was up again ready to drive his diminutive team mate over the line. Reuben followed this up with a charge of his own from 20m out to score a fine individual try.
There were signs of some good kickers emerging, Elliott Nicholls sending probing kicks deep into opposition territory to gain valuable yardage for the Pirates.
Overall, this was a convincing performance, but the team will come up against stiffer opposition and the coaches can identify several areas that require some hard work out on the training pitch.
Try scorers: Reuben Mzera - 2, Jake Carley, Michael Durbin, John Tyler, James Stacey
Conversions: Elliott Nicholls - 3, Jake Carley - 2

Dan Seal & Ed Fairhurst With The Under 11s
Cornish Pirates' Dan Seal & Ed Fairhurst Help The Under 11s with training on Friday 11th November
St. Ives U11s 0 Pirates U11s 36
20th. January, 2008
A first trip to Alexandra Road, St. Ives, in three years saw the Pirates emerge convincing winners.
The boys welcomed the opportunity to return to playing action against a St. Ives team who were especially competent at the breakdown.
The Pirates scored a total of six tries in the match, including a maiden try for forward Billy Pengelly. The adjudged 'man of the match' was Connor Bick, it a reward for his aggressive forward display.
Scorers - tries: Reuben Mzera (2), Max Berryman, Adam Peterson, Connor Bick, Billy Pengelly; cons: Max Berryman (2), Jake Carley.
"Pirates Juniors are reminded that news and other items will appear on the forum that can be found by clicking on 'Juniors Forum' under Fanzone
Pirates U11s 7 St. Austell U11s 7
16th. December, 2007
On a cold Sunday morning the Pirates travelled to Camborne to play a matches against a combined Camborne-Helston team, plus also an invited St. Austell side.
In the their first game against St. Austell the match was evenly contested. The Pirates scored one try in the first half through Reuben Mzera, with Max Berryman adding the conversion, before in the second period their opponents hit back to earn a draw.
The match that followed against the Camborne-Helston side saw the Pirates record a comfortable victory, though there was still much to admire in the determination and promise shown by the recently formed combined team.
Liskeard/Looe U11s 7 Pirates U11s 40
25th. November, 2007
The Pirates travelled to Liskeard forced to make several positional changes to cover late unavailability. However, head coach Sean Hickman's insistence on practising the basics at training paid off, as the team put in a very convincing performance based on a strong ruck/maul/distribute pattern that kept the ball alive.
The team took their customary time to really get into their stride, but once their solid rucking took over, scrum half Jake Carley was able to distribute to a devastating back line initially comprising Max Berryman at fly-half, a centre pairing of Callum Groves and debutant Tarron Millard, and Sam Ashworth and Alistair Groves on the wings.
Max opened the scoring with a typically bullish run after several attritional plays. This was immediately followed by the try of the day when swift re-cycling and excellent passing along the backs saw the ball reach newcomer Tarron Millard who weaved his way through the Liskeard defence for a score in his very first match for the Pirates.
Liskeard attacked valiantly, but the Pirates patiently kept their defensive shape and turned over ball at most breakdowns, allowing them to score a further 4 tries.
The U11 squad has increased from 14 to 27 in the space of a few weeks. Many of the new players such as Billy Pengelly, Billy Lee and Sam Ashworth are already showing tremendous skill and commitment levels. Even the newest squad members, Mathew Kemp, Ralph Harvey-Jefferson, Edgar Kazlauskas, Jay Lagden and Rory Courtney have demonstrated great rugby skills and are fantastic additions to the squad.
This is great for Pirates mini-junior rugby.
Scorers - tries: Max Berryman (4), Tarron Millard, Jake Carley; cons: Max Berryman, Connor Bick, Reuben Mzera, Billy Lee, Billy Benton.

Pirates U11s v Helston/Camborne U11s
18th. November, 2007
With both Helston and Camborne slightly short in numbers this season, the sensible initiative has been taken to combine forces.
Playing the Pirates was the combined side's first serious opposition, and they started well, retaining possession from their own kick-off and driving over for a well deserved try.
Nevertheless, the combined Helston/Camborne side stunned the Pirates by retaining their own kick off and driving over for a well deserved try. After some re-grouping the Pirates, who included a few relatively inexperienced players in their side, soon found the cohesion, passing flair and team spirit that normally typifies their play to hit back to cross the Helston/Camborne line on several occasions.
With many of the Pirates players in unfamiliar positions, their basic rugby skills came to the fore with strong tackling, rucking and superb handling skills.
On many occasions the ball sped down the line for the wings Sam Ashworth and Alistair Gwennap to make significant territory. In the forwards Billy Pengelly and Harvey-Jefferson both drove well and secured good ball for distribution to the devastating Pirates backs.
Try-scorers for the Pirates were Henry Monk, Sam Ashworth, Dylan Williams, Reuben Mzera and Elliott Nicholls.
Pirates 36 - Truro 0
November 4th, 2007
Pirates 36 - Truro 0
The Pirates welcomed a resilient Truro side to the Mennaye.
The visitors, with a large number of less experienced players, tackled and drove with commitment and enthusiasm and made the Pirates work hard for their scores. Whilst the Pirates had much of the play, Truro showed great spirit throughout the match. Some delightful running and passing from the Pirates led to a good number of scores.
Try scorers:
Max Berryman - 2 / Matt Dale - 1 / Dylan Williams - 1 / Henry Monk - 2
Launceston 21 - Pirates 0 / Launceston 7 - Pirates 14
October 21st, 2007
Launceston 21 - Pirates 0
Launceston 7 - Pirates 14
An unusually large squad of 18, undoubtedly boosted by an additional 4 new players for this season, travelled to play at Polson Bridge for the first time. The current U11's only having played Launceston at Kenwyn 2 seasons ago and at the Mennaye last season.
Having leant 3 players to the U10's our boys then played 4 short periods in order to accommodate Launceston's large squad numbers.
Launceston always have a strong team and so it proved again. However the Pirates showed their usual determination in all areas of the game. Some scrums were lost to determined shoves from the opposition, whilst others held firm allowing distribution to the backs who used their possession well.
The Pirates initial rucking is very good, but they tend not to get there in numbers, resulting in a second effort from the opposition driving them off the ball and resulting in a turnover. Whilst generally tacking is of a high standard, occasional lapses did tend to be decisive in allowing Launceston to score.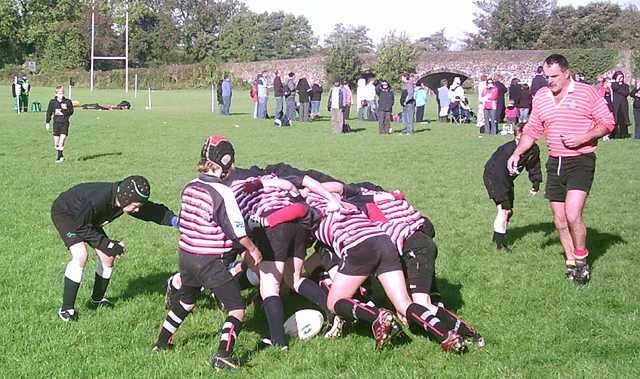 It was especially pleasing to see newcomer Adam Peterson, playing at centre, score his first try in Pirates colours, a jinking run to the line hopefully an indication of more to come.
Try scorers
Max Berryman, Adam Peterson
Conversions
Max Berryman 2

Under 11s training
Mini-Junior training times have just been confirmed for the forthcoming rugby season
Fridays from 4.30-5.30pm, starting on the 7th. September.

All sessions will take place at the Mennaye Nurseries field.
Old and new players welcome.
For more information contact Sean Hickman 01736 351688 or mob 07940 148 519
---