Pirates Colts - A Brief History
The Colts
The Pirates Colts are an U19s outfit nowadays, but for much of our history these thoroughbreds of our playing strength were an U18s team called Mounts Bay.
The term Colts at the beginning referred to a side equivalent to our present Juniors, this being an important introduction as rugby had been almost non-existent in local schools in the late forties.
Jim Matthews became the clubs first schoolboy international in 1947/48, with Gerald Luke joining him in the England U15s team the following season.
The Pirates Colts circa 1974
Pictured standing
L-R: Johnny Thomas, Tristan Smart, ?, ?, Paul Hocking, Max Earl, ?, Andy Barclay, Billy Lawrence, Harvey Richards.
Seated
L-R: Gary Outram, 'Cecil' Cotton, ?, Peter Trudgeon, Robert 'Pickles' Nicholls, John Brayley, Robert Barrett.

If readers can identify missing then please contact Phil Westren on 07817998879
Or email
Many gifted future Pirates such as Ray Burroughs, Peter Michell, Graham Paul, David Mann and Alvin Williams were nurtured in the Colts, with officials Percy Batten, Bill Crotty, Horton Nicholls, John Chipman and Ben Perrin making sure they well looked after. Desmond James and Ben Jelbert also did great work in the fifties, and in 1957
the most famous of all Pirates Colts, Stack Stevens, embarked on his illustrious career. The strength of the side through the late fifties and sixties continued to be of a high standard. Cornwall 7-a-side tournaments were won in 1959, 1964 and 1968, with more excellent work undertaken by officials such as Ken Thomas, Mike Dowell and Roger Pearce.
Into the seventies it was Commander Otto May in charge, then Johnny Thomas and Harvey Richards who were in office when the Pirates Colts name was officially adopted in 1974. Robert Williams, who had played for England Schools 16 Group in 1980-81, also played at 18 Group level in 1982-83, and late in the decade Vivian Heale was selected for England squad training and Ian Blewett as a reserve for the final England Colts trial.
In 1989/90 the promise of earlier seasons was fulfilled when the County Cup was won for the first and only time (to date) by defeating Camborne 10-6 at Hayle. David Pascoe proved an inspirational captain during the season and Steve Larkins amassed a remarkable 222 points from the total of 650 scored.
Ray Jeffery, Colin Knocker Kneebone, Jan Olszewski and Whitford Andrews, among others, guided our Colts during the period as administrators and coaches, roles now undertaken by people including former Pirates players Martin Murrish, Joff Collins and Treve Stirling.
2006 - For the first time since 1968 the Pirates Colts team won the Cornwall Colts 7-a-side tournament at Newquay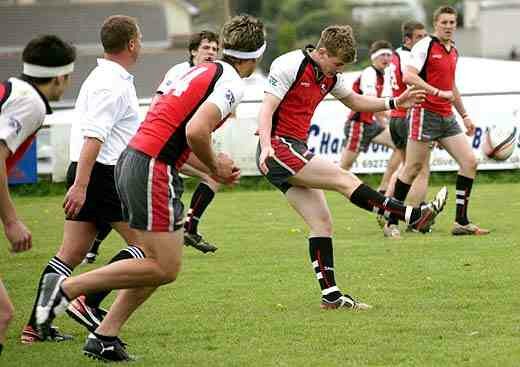 Johnny Morrison kicking off at the County Sevens tournament - Newquay 2006

Finally, before concluding this all too brief resume of the Colts history, it is worth considering that many of our Club Captains have come up through the Colts.
A long list have also made the full Cornwall team and have some have been further honoured when selected for various other representative sides. However, for the bulk of the playing strength who dont aspire to these levels, but who are equally important, it is hoped that they fully enjoy their time in the Colts.
It is often said that schooldays are the best of your life. We dont always realise this at the time but there are many who would reflect and say that Colts Rugby is the best youll ever play or see! Long may it thrive.
---