Penzance Rugby Club 1876 - 1944
Club origins | History of Newlyn club
Rugby Football was apparently first played at Penzance in 1870-71 at Poltair, the team, composed mainly of public schoolboys and university undergraduates, playing a match against the staff of the Eastern Telegraph Company from Porthcurno.
W. H. Borlase was instrumental in arranging the fixture, playing in the Penzance team alongside others such as Maxwell Batten, W. Blackwell, A. Borlase, T.E. Hocking and Morton Travers.
Until 1975 teams were 20-a-side, there being 13 forwards, 3 half-backs, 1 three-quarter back and 3 full-backs. Scrummaging dominated with few chances going to the outsides, but in 1976 teams were reduced to 15 in number which gave the game a more open pattern.
Penzance RFC was officially founded in 1876/77 with their strongest fixtures being Redruth (thought to have been their first opponents), Hayle and Lelant.
Leading officials at the end of the 19th. century included J. B. Cornish, whilst on the playing front Arthur Trounson, a full-back, became the clubs first county cap in 1883-84.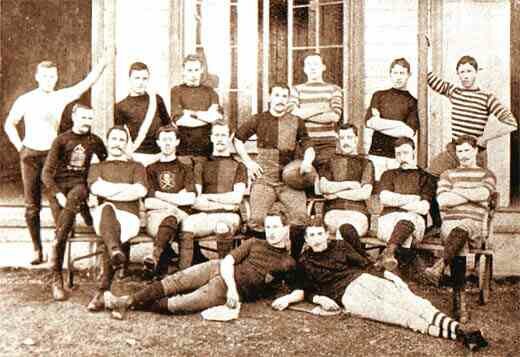 Penzance Team 1883-84
Penzance were champions of Cornwall in 1896-97 and 1897-98, in the latter winning all 10 games to lift the Cornish Rugby cup.
Leading players who represented Cornwall during the period, it not unusual to have as many as five in the team at a time, included Oliver Triggs, George The Giant Kistler, Tom Peak, plus brothers Dennis and Dick Lawry whose service to club and county throughout their lives was quite phenomenal.
Barrie Bennetts, a great player both in attack and defence, was in the Cornwall County Championship winning side in 1908, winning 42 caps in all for his county. He played twice for England in 1909, toured Argentina with the British team in 1910, represented the Barbarians on 9 occasions, and was later Cornwalls President from 1945-50.
Before and immediately after the First World War fixtures were played by Penzance on Christmas Day, and there was also a Rugby Town Cup involving teams such as Causewayhead United!
Hugh Edmund Fisher Maddrell played in the County Championship final at Bradford in 1928, Comet Penny was an England trialist in 1931, him also playing that year alongside Bill Rowe for Cornwall & Devon against the Springboks, and Ken Simpson captained Penzance for three seasons from 1925..
Other players making their mark included such as Ben Perrin, Cyril Mann, Jack May and Mark Goody, whilst, interestingly, Mrs. R.C. (Mavis) Lawry was listed as a member in 1926-27, and Rex Carr joined the committee in 1928.
Sadly, there was often quite considerable animosity both on and off the field between Penzance and their near neighbours Newlyn, with fixtures cancelled between the two clubs for a spell from 1928-1932.
Various financial difficulties were also ever present, culminating in 1936 with a critical vote as to whether Penzance RFC should continue.
Leading players now included Dick Matthews, who played for Cornwall & Devon against the All Blacks in 1934, and Irving Uren capped 8 times by Cornwall.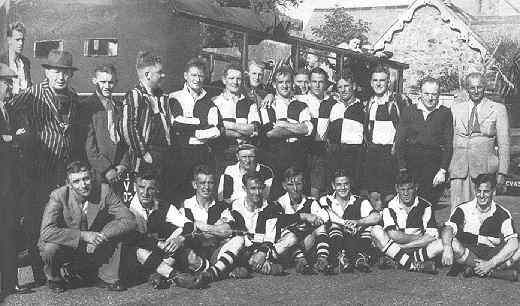 Penzance Team 1937-38
Standing L-R:
P. Renfree, Rex Carr, Moyle, W. Rose, K. Simpson, T. White, - , W. Monckton, D. Bartle
P. Gartrell, B. Perrin, F. Blewett, 'Ginger' Collins (Referee), J. Jenkin

Sitting L-R:
F. Jelbert, B. Moffat, R. Matthews, E. Thomas (wearing cap), C. Mann, Howes, T. Nicholls,
L. Tripp, B. Edmunds
Penzance played at St. Clare, but during their history a number of other grounds were used at places such as the Alexandra grounds, Heamoor, St. Just Road and Coombe Lane.
Club colours also varied with no recognised set before 1890 when a claret and light blue hoped jersey was introduced. This was followed by sets with black and white quarters, black and white hoops, white with a black band and just plain black.
Fixtures over the years were played against teams ranging from South Wales Borderers to St. Marys Hospital and Catford Bridge to Cardiff.
By the late thirties there developed a meaningful desire to seriously consider the one time unthinkable to amalgamate with Newlyn. However, the outbreak of the WW2 put an end, for the moment, to that developing theory. The last recorded meeting, in October 1940, was of a small committee to function during the emergency, there then being an official gap until the next meeting four years later.
By November 1944 the feeling in both camps for amalgamation became overwhelming and when Penzance met in full committee on the 21st. November it was resolved to call a meeting to wind up the Penzance RFC and launch a new club.
The proposed meeting took place at the Guildhall on the 12th. December 1944, with Rex Carr putting forward the case for amalgamation with skill and conviction.
Two proud clubs who had known both difficult and successful periods were to become one.
---