Post War Peaks & Troughs During the 50s and 60s
The Mennaye Field in the early 1950s - See the queue at the Newlyn gate
During the 50s and 60s, the Pirates were amongst the most well-known and respected Clubs in the country, hosting some of the finest teams in the land.
Many distinguished players were team members and, on one occasion, two Pirates were in the same England team together!
John Kendall-Carpenter (captain) and John 'Ginger' Williams both played at Twickenham against Scotland in 1951. 'Stack' Stevens was our third international, winning the first of his 25 England caps against South Africa in 1969 - see Representative Honours.
Support for the Pirates was immense in those days of little affluence and no television, especially in the 50s, and gates often exceeded 5000 people - over a quarter of the town's population.
However, during the late 60s, 70s and 80s, young people took up different pursuits and many who went upcountry for their higher education tended not to return, whilst touring teams could no longer afford to visit the far west.
Consequently, the quality of rugby - with which The Pirates had long been associated - began to diminish in line with the decrease in organised sport in schools.
---
The Pirates 1959-60
This was a season during which Jimmy Glover played for Oxford University, Gerald Luke played in an England Trial, Peter Michell captained Cornwall in the County Championship, and Jimmy Hosking became the first player to reach 500 games.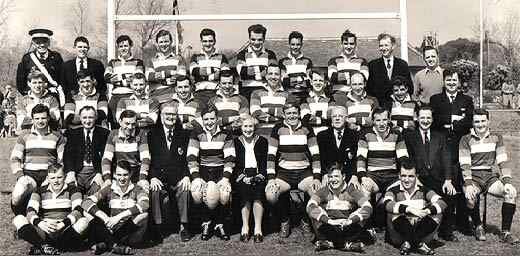 Back row L-R:
C. Blewett, George 'Bosun' James, Phil Harvey, Henry Care, Brian Trudgeon, Alfie Fowler, Charlie May, Jackie Bowden, Rodda Williams, Fred James.
Second row L-R:
Geoff Vingoe, Brian 'Stack' Stevens, Tony Stevenson, Jim Matthews, Brian Monckton, John Edgecombe, Stan Richards, Ray Burroughs, R. Harris, Harry Matthews.
Seated L-R:
Gerald Luke, Ron Hill, Jimmy 'Ock' Hosking, Alfie Nicholls, Peter Michell (c), Mavis Lawry (President), Alvin Williams, Dr. Giles Hall, Mike Jenkin, Cyril Ladner, Johnny Thomas.
Front L-R: Owen Barnes, G. Knight, Mike Dowell, Micky James.
---
During the 1950/60s many Pirates played for the Cornwall side
The game below was played at Redruth, probably on the 2nd. October, 1954
The opponents being D. R. Gent's XV. Cornwall won the game 14-9.
The Cornwall side in front of the old changing rooms besides the scoreboard - which is still there!.
Pirates included are:
middle row - Rex Carr (Cornwall representative on the RFU, third from left with glasses), Mike Jenkin (fifth from left), Pat Cleaver (seventh from right in scrum cap).
Seated in the middle is John Kendall-Carpenter (captain), with Johnny Thomas sitting on the grass right in front of him.
, Ben Batten (Selector), who appears to be kneeling on the left (wearing a light coloured suit and looking back towards the team).
The gentleman in a suit sat next to 'Carps' is probably Dai Gent himself, with the captain of his side beside him being Dr. Jack Matthews (Cardiff, Wales, British Lions - who also played for the Pirates, having married a local girl).
Dai Gent, who played for Plymouth, was a Welshman (no surprise!), who was (surprise!) capped five times for England (1906-10). Like many of his era, he failed to replace 35 times capped (a Welsh record for many years) R.M. Owen as the Welsh scrum-half. He joined Gloucester and also later captained Cornwall (7 caps) in 1912-13.
Cornwall's last match against D. R. Gent's XV was played at Falmouth in September, 1958, as the RFU raised concerns about there being an unwelcome growth of 'sponsored' rugby. it had been a splendid traditional fixture that had meant much to the Cornish, bringing both pleasure to spectators and much-needed finance to the Cornwall RFU who was profuse in its thanks.
In reply, Mr. Gent (an Honorary Vice-President of the CRFU) wrote movingly of "the wonderful welcome and support I have always received from my Cornish friends". Yes, the parting was clearly one of sadness and regret.
---
The Pirates have always worked closely with our schools
Local teachers such Rodda Williams and Ben Jelbert (St. Paul's CP), Ben Batten and Bob Horne (PZ/Humphry Davy Grammar School), Johnny Thomas (Lescudjack), and Gerald Luke (Heamoor) all played for the club during our early history.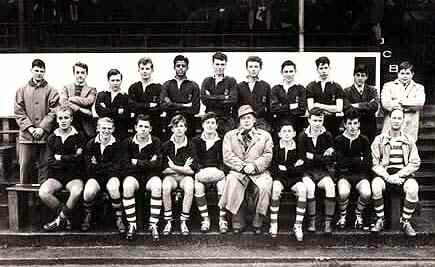 Cornwall Schools team (circa 1960)
The photograph above is of a Cornwall Schools team (circa 1960), taken at the Mennaye Field.
Seated in the middle is Raymond Evans (father of Richard), a committed Penzance & Newlyn RFC offficial who was also President of the England Schools RFU in 1963-64.
The teacher sat on the extreme right is Jim Batten (brother of Ben), who later became a Mayor of Penzance.