Pirates Internationals
It was a great honour early in our history to have three players gain international recognition. Gerald Luke, Jim Matthews & John MacG. K. Kendall-Carpenter, who went on to win a total of 23 England caps, and who also captained his country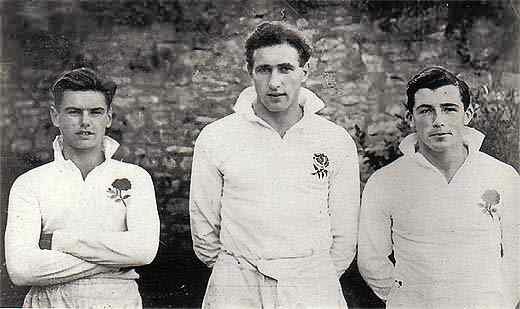 John MacG. K. Kendall-Carpenter is pictured in the middle of the picture.
Either side of John are Gerald Luke and Jim Matthews, both later captains of the club, who played for England Schools U15s team.
B.B Bennetts
John MacGregor
Kendall-Carpenter
Gerald Luke


British Team Abroad
to Argentina 1910-11
England 1909 (2 Caps)


England
1949-54 (23 Caps)


England Schools U15s
1948-49.

J.M Williams
C.B. 'Stack' Stevens
England
1951 (2 Caps)



England-Wales XV V Scotland/Ireland 1972-3
England 1970-75 (25 Caps)
British Lions Tourist to New Zealand 1971

Victor Olonga
Villi Ma'asi
Rob Thirlby


Zimbabwe - 1998-2003


Tonga - 2003


England 7s 2003/05

Iva Motusaga
Heino Senekal
Rhodri Mcatee

Samoa - 2005

Namibia 2005/07

Wales 7s 2005/07s
Stan Mckeen
Ed Fairhurst

Canada 2007

Canada 2007
Youth Internationals
Robert Williams
Robert Whyte
Gareth Andrews

England U16s 1980/81
18 Group squad 1982/83

Scotland U18s 1999-2000
Scotland U18s 1999-2000
Scott Hobson
Darren Dawidiuk
Sam Parsons
England U19s 2007
England U20s 'Six Nations'
2007 Squad
England 'St. George Samurai' Squad 2007
The English Schools' RFU

Adam Nicholls

Adam Nicholls


Adam Nicholls made the 16Gp team in 2002/03.

Following in the steps of Jim Matthews and Gerald Luke - England U15 schoolboy internationals in the late forties - and prop Robert Williams England 16Gp 1981 & 18Gp 1983.

A product of our Mini-Junior and Colts sections, Adam also played for British Colleges in 2005 before making his senior debut with the Cornish Pirates.