Players who took part in a demonstration match in 1973
Players who took part in a demonstration match played before an end-of-season Chiefs' fixture in 1973
Can you help identify the players here - maybe you are one ?
If you can fill in the blanks or correct us if we're wrong
please Email: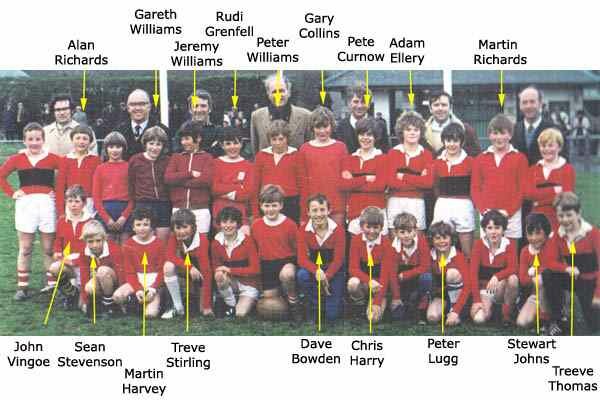 The team included two pairs of brothers who went on to play 1st. team rugby with the Pirates:
Stuart and Ian Johns and Jonathan and Adam Ellery.
A trio from St. Paul's - Dave Bowden, Treve Stirling and Peter Lugg also came through as Pirates players.
Adults pictured L-R:
Phil Harvey, Ben Jelbert, Johnny Thomas, John Kendall-Carpenter (English Schools RFU)
Geoff Vingoe (CRFU), Don Rutherford (RFU Divisional Technical Officer) and Harvey Richards.